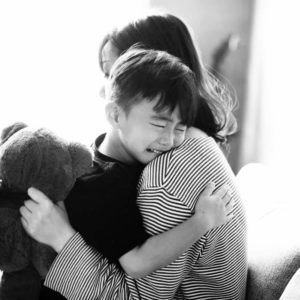 Today, we'd like to share a proud moment of strength we had a few months ago. When online school started, this flew out the window and we had our fair share of moments that we're not proud of. We'll save that for another day, because for now, let's focus on strength.
❤
—-
April 20, 2021:
I gave Kyle a heads up that he only had a few minutes left on his iPad. When the timer rang, I took it and said "time's up." Usually he relents, but this time, he started whining and shouting "NO!". Then my phone rang, so I answered it. That riled him up even more, and he started hitting me softly. He kicked me as I was putting the iPad out of reach. I looked him in the eye and said "stop it," which only had a momentary effect.
I finished my call, squatted down, and asked him what he needed. A hug? NO. Water? NO. Should he run to his bed to keep himself from hitting, like he said he would the last time? Take a deep breath to calm himself down? Think of a funny thought? Hug his monkey? NO, NO, NO! He looked me straight in the eye while hitting and kicking me, and I was on the verge of losing my temper as well.
I decided to take my own advice and stop. I closed my eyes, took deep breaths, and said out loud: "I am getting upset, but I will remember that even if Kyle hits me, he doesn't mean it. I know that he loves me, and I love him." The next thing I knew, he wrapped his arms around me. He hugged me tight, and I could feel him taking deep breaths. He whispered softly, repeating everything I said. "Mommy loves me, and I love my mommy." I hugged him back and felt his anger melt away.
❤
"What should we do now, mom? What do you feel like doing?" "Should we read some books?" "Okay! I really wanted to read Llama llama last night." We read together, then I asked him about what happened. He chuckled and said "I got so angry, mom." He said sorry, admitted he was wrong, and promised not to do it again. He said he will try my strategy next time because it really, really works. Spoiler alert: It didn't work the next time.
😆
But hey, life's like that. We just have to keep on trying.
💙
#wholebrainchild #parenting #tempertantrums
Photo credits to @thequeenmomma.com
Get freebies!
We love giving away freebies that will be useful to you and your kids! Let us know your email address and we'll send you the link to our free downloads page that will give you access to:
our tried and tested parenting strategies
fun activity sheets
educational resources
We'll also email you every time we add a new freebie, or a new blog post. You'll also get early access to our promos and new releases. You may opt out anytime!
We'll be posting more read-aloud books, time-lapse art, and animations of our stories, so watch out!
[embedyt] https://www.youtube.com/embed?listType=playlist&list=UUeN2uELRaxUFsZ7hQ7S8pww&layout=gallery[/embedyt]
Thank you for visiting Kim T.S. Books Blog! See you again soon!
If you love our books or believe in what we are doing, we would truly appreciate your support in helping us spread the word to more kids, parents, teachers, and people all over the world! Please take the time to write us a review via any (or all :p) of the following:
Amazon (they will only accept reviews from customers who have purchased $50 and up in the past year)
Good Reads (anyone can write a review)
Recommend our Facebook page
Share any of our work or pages on social media (scroll to the bottom of this page to find our links)
Email us your review if you want it to be considered for posting on our website
If you would like to share photos or videos of you, your kids, or your students enjoying our books, please email it to us or tag us on social media (click the widget on the bottom right corner to send through fb messenger or email. Full social media links at the footer of this page . It would mean the world to us, so THANK YOU!