Big Feelings. Less Tantrums.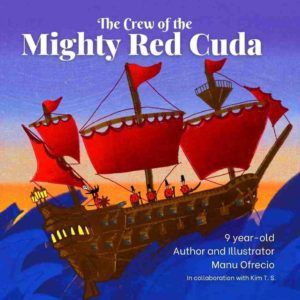 Kim T. S. x Kids Collab – books for a cause
We bring children's creations to life and help them realize their dreams of becoming authors. All net profits will be donated to charity. The first book in the series is a pirate story by a 9-year old Filipino author named Manu. It will be for the benefit of Angat Buhay Foundation (rough translation: "Uplifting Lives"), which is dedicated to alleviating poverty in the Philippines.
Does your child get overwhelmed with big feelings? That can get frustrating for both kids and adults! It's okay to feel ALL our feelings. But there are ways to calm down when our feelings get TOO big.
"Your mind is your super power- YOU hold the key.
You can feel more than one feeling- just try it and see!"
There's a reason for every feeling, including anger. Instead of hiding it, we should try to understand WHY we feel that way and find healthy ways to release it. Otherwise, our anger might explode!
Join Max the Lion as he tries to find ways to understand, accept, and overcome his anger.
Get FREE Coloring Pages and Emotional Regulation Activity Sheets
We'll send you a link to access all our free Social-emotional Learning resources when you sign up to our mailing list!
Great for bonding with your kids!!
Our youngest child has difficulty processing emotions and the first night we read this to him, he showed interest right away and immediately felt better after learning that a lot of other kids are going through the same thing. Hopefully they don't get too bored with this book as its been on repeat every night!
Geovy, Dad of Three
Wow! This is so amazing.
My heart feels so full knowing that there's a book that understands what children go through. I appreciate how it incorporates the superpower and emphasizes that they can choose what to do. I also like how the author mentions that it's meant for parents to read with their child. This would be a nice book to discuss in class, and I'm excited to read future books in the series!
Ly Solomon, Kinder and Grade 1 Guidance Counselor
My 2 and 4 year old loved it!!!!
Finally, a book my 4 year old could really relate to! By the end of the book, he felt that Kyle and his BIG feelings was him! We spent so long on each page and were able to go through moments he also felt angry or sad or scared. It's such a lovely book for discussions and the illustrations are lovely! Truly, truly love this book!
Jenica, Mom of Three Kids
Visit our blog to read about how Kim and Kyle manage their biggest feelings in real life.
Want to get exclusive freebies? Sign up to our mailing list and we'll send you a download link.
Hi! So happy to see you here. Aside from writing children's books and running a business, most of my energy goes towards raising a sweet, silly, and strong-willed little boy named Kyle. He just turned six this year, and he helps me write all of my books.
When my dad passed away in late 2019, it put a lot of things into perspective. I left my corporate job to focus on Kyle, who was struggling a lot with big feelings (especially anger). I also found the courage to seize the day and write my first book. I wanted Kyle to understand that, while all feelings are okay, we can't let them take over us.
"Feeling All My Feelings Book" helps Kyle calm down when he's upset, and has led us to discuss difficult feelings together. We hope our books can help you, too.