Big Feelings Picture Books
Feeling All My Feelings Book is the introduction to a series of picture books that help kids deal with big feelings.
Self-regulation is an important skill that kids need to learn in their early years, but they need our help. Bottling up feelings can have disastrous consequences. And letting them get out of control can cause mayhem!
Handling emotions can be quite a challenge (even for adults). Picture books can introduce emotional regulation strategies in a fun way.
All the following characters are in "Feeling All my Feelings Book" and will have their own books soon!
Max the Lion
Max struggles with Anger. The littlest things can cause him to explode, and sometimes, his mommy doesn't know what to do! But all throughout these wild episodes, mommy hugs Max and assures him that his feelings are valid and real. At the same time, mom tries her best to help him find ways to calm down.
We all need some help sometimes, so it's good that Max has his mom to guide him. Will max find a way to accept and control his anger? Watch out "Feeling All My Anger Book," coming next in this series!
Kenzo the Puppy
Kenzo feels scared about a lot of things. His little sister teases him about it, but that's just the way he is. It's okay to feel scared- we all feel scared sometimes. Fear helps us protect ourselves and those around us from danger. But feeling scared about too many things can get in the way of living our best lives!
Always remember that bravery is not the absence of fear, but moving forward in spite of it. Join Kenzo as he faces his fear and becomes stronger than he thought he could ever be!
Watch out for "Feeling All My Fears Book," about facing your fears, coming soon in this series.
Kimi the Giraffe
Kimi feels worried about a lot of things. She even worries about worrying! She wonders if she's the only one in the world like this, and doesn't like talking too much about it. But just like with fears, we need to face the source of our anxieties and look for ways to overcome them.
Watch out for "Feeling All My Worries Book," coming soon in this series.
Georgie Bear
Georgie struggles with feelings of sadness. When something happens that he doesn't like, no matter how small, he can't help but feel bad about it. Sometimes he gets over it easily, but sometimes he doesn't. Mommy is worried that if he says sad for too long, he might miss out on all the good that's around him.
It's okay to feel sad, sometimes. Everyone does. But as with all things in life, we need to find a balance so that things won't get too hard for us and those around us. Watch out "Feeling All My Sadness Book," coming soon in this series!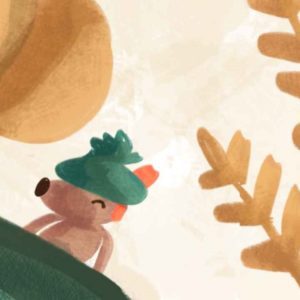 Tiny the Mouse
Tiny has lost someone she loves dearly. Her grandpa was like a second dad to her, and she loved spending time with him. At 3 years old, she's a bit too young to understand completely about what it means when someone dies. She hopes she will still get to see her grandpa, and that he's just sleeping soundly. Her parents try their best to explain the realities of death to her in a way that won't make her too sad for long.
Watch out for "Feeling All My Goodbyes Book," coming soon in this series.
Wholesale Orders
We offer 30-50% discounts for orders of 10 paperbacks or more. Get free coloring pages and activity sheets when you sign up to our mailing list.
The Crew of the Mighty Red Cuda
Written and Illustrated by Manu, a 9-year-old boy, in collaboration with Kim T. S. books.
A 9-year-old boy's imagination comes to life in this classic adventure set in the high seas.
The British Royal Navy battles a powerful pirate ship to free the slaves and share the golden treasure!
This book was created for the benefit of Angat Buhay (Uplifting Lives) Foundation, which aims to develop the most marginalized communities in the Philippines. 100% of profits will be used for the organization's education programs.
Kim T. S. x Kids Collab series empowers children to become authors towards a good cause.
We hope to inspire more kids to read, write, draw, and reach for their dreams.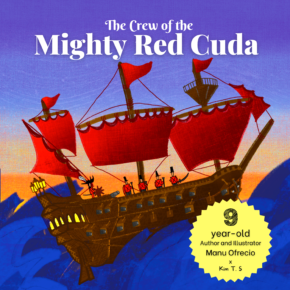 Kim T. S. x Kids Collab
Share your child's talent with the world for a good cause. Show us your child's stories and artwork, and we'll choose a few to edit, digitize, and publish. All profits will go to Angat Buhay Foundation Philippines, or other mutually chosen charities and organizations. Get free activity sheets and coloring pages when you join our mailing list.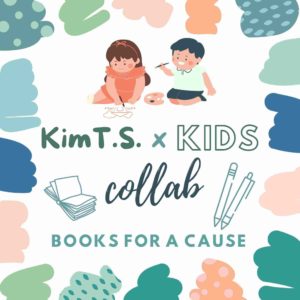 Get freebies to go with our Big Feelings Picture Books!
We'll send you emotional regulation themed coloring pages and activity sheets when you join our mailing list. You'll also get first access to new freebies, promos, blogs, and book releases.