Feeling All My Feelings Book Reviews: recommended by teachers, professionals, parents, and kids!
Jessthewildone
2023-05-28
Verified
Feeling All My Feelings Book: Love this! Read it to my toddler and she absolutely loved it! Kept asking me for more. Definitely one to keep on the shelf
Verified
Feeling All My Feelings Book: Spot on I loved this book it's super relatable even for adults. It's a good teaching tool as well for moms and dads who don't know how to teach they're children about they're feelings and how to process them
Verified
Feeling All My Feelings Book: good reading A lovely story about feeling and how to handle those feelings in different situations. A good bed time story for kids
Richard Bankhead
2023-05-11
Verified
Feeling All My Feelings Book: very helpful Our six year old was very interested in what he learned about feelings from this book. He liked reading it.
Katherine Bartlett
2023-04-20
Verified
Feeling All My Feelings Book: Beautiful way for kids to learn their emotions Such a beautiful way for kids to learn complicated emotions. The entire series is wonderful for little kids
Verified
Feeling All My Feelings Book: Great for explaining to kids This book helps kids see the difference in how they feel & how to explain it to adults.Very good for helping adults who forget kids aren't adults who can express how they feel!
Verified
Feeling All My Feelings Book: such an important book to read as early as possible Missing the train is one of the biggest challenges when trying to teach kiddos to cope with their emotions. This is a fantastic book to read as early as possible, and then for a few more years and until it's internalized. All Kim's books in this series are fantastic for emotion coaching your kids. Big recommendation!
"I got goosebumps reading this book to my 3 year-old son. It's so powerful when read aloud, and he had so many questions after! I especially love the ending, which reminds me of "The Plans I Have for You." I think this book has the quality of a classic, right up there with "Guess How Much I Love You."
Books like these are not meant to be scientific, but are really an art. As the author said, it will open up conversations about feelings. It's up to parents to make sure their children interpret the book's message the right way (that big feelings are okay, but there are things we can do to help) vs. the wrong way (that feelings are all in the mind and we can simply will all bad emotions away all the time).
Dr. Victoria, Developmental and Behavioral Pediatrician (www.effectivemommy.com)
"My daughter keeps asking me to read this to her every night. She loves the characters and laughs every time we read the "MOO" joke! The best part is- it's helped tame her tantrums. I remind her about the techniques discussed in the book and we try them together. I'm so glad I found this book!"
Cherry, a mom who loved our book on Good Reads
"This is a wonderful book! It will surely help teachers, parents, caregivers, and even kids themselves understand that all the things they are feeling are okay. Amazing writing and illustrations, hands down!"
Blue Santiago, Kindergarten Teacher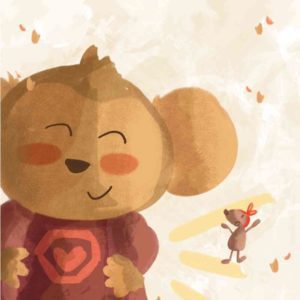 A Must Read. It's an excellent introduction for kids to learn, label and understand different emotions. Best of all, it's a book that teaches us that we always hold the key to dealing with small and big feelings. A fun and entertaining book for kids of all ages and a great reminder for adults too! Highly recommended, and I can't wait to read the next book.
My NY Cove, Single Adult